Conservation
Lancaster County has some of the most fertile non-irrigated land in the country.  The Ag Council and it's partner organization, the Lancaster County Conservation District, stand firmly behind the need for farmers to help conserve and protect our natural resources, such as soil and water.  Having written and implemented Conservation Plans or Ag Erosion & Sedimentation (Ag E&S) plans are a critical part of being stewards of the land.
Overall, the goal of conservation planning is to identify and address natural resource concerns on agricultural land, such as gully erosion, excess nutrients, and sediment runoff. Addressing resource concerns around your property benefits your local streams, creeks, and rivers.
In collaboration with  USDA Natural Resources Conservation Service and private sector consultants, the Conservation District, is available to help farmers and landowners get plans written or updated and implemented.  Technical assistance and cost share programs are available for implementing Best Management Practices (BMPs) that help keep the soil in place, improve soil health, sequester carbon, and positively impact water quality in our local streams.  Click here to download Ag Best Management Practices Guide.
The Lancaster Clean Water Partners
Beginning a few years ago, the Lancaster Conservation District has been part of the county-wide, coordinated effort to address water quality improvement called the Lancaster Clean Water Partners.  The Partners is a countywide, collaborative partnership of diverse partner organizations – local leaders in business, municipal public service, higher education, conservation planning, and non-profit management – that come together with a Common Agenda. We're led by an Executive Committee and Steering Committee, with full-time support from staff, and collaboration with many partner organizations across Lancaster…https://lancastercleanwaterpartners.com/.  It is driven by a shared vision of clean and clear water in Lancaster County by 2040.
Conservation Foundation of Lancaster County
The Lancaster Co Conservation District also has another critical arm needed to accomplish natural resource conservation, and that is the Conservation Foundation of Lancaster County.  It was founded in 2007 as the fundraising arm of the Conservation District and is a tax exempt 501(c)3 nonprofit organization.  The mission of the Conservation Foundation of Lancaster County is to promote, support, and sustain the stewardship, education and conservation activities undertaken by the Lancaster County Conservation District and our local partners.  The primary goal of the Lancaster County Conservation District is to build a sustainable future for all citizens of Lancaster County…https://lancasterconservation.org/conservation-foundation/
Agriculture Conservation Funding
For the most up to date information about cost-share programs, contact the Conservation District or USDA NRCS.  There are long-standing programs administered by USDA. In addition, the Conservation District holds many grants that are focused on installing BMPs in Lancaster County.  What is available and what the requirements are can change frequently, so don't hesitate to contact the Conservation District for more details.    Below is a list of some options.  As a reminder, all farms will need to be in compliance with Conservation Plans or Ag E&S plans, and applicable Manure Management or Nutrient Management Plans to be eligible for any cost share programs.
The Conservation Reserve Enhancement Program (CREP) is a voluntary land retirement program that helps agricultural producers protect environmentally sensitive land, decrease erosion, restore wildlife habitat, and safeguard ground and surface water.  For more information on cost share programs, please contact Ashley Spotts.
The Resource Enhancement and Protection (REAP) Program allows farmers and businesses to earn tax credits in exchange for "Best Management Practices" (BMPs) on agricultural operations that will enhance farm production and protect natural resources. The program is administered by the State Conservation Commission and the tax credits are awarded by the Pennsylvania Department of Revenue. Eligible applicants may receive between 50% and 75% of project costs as state tax credits for up to $150,000 per agricultural operation.  The amount of tax credit available to a recipient is dependent on the type of BMP implemented.
The Environmental Quality Incentives Program (EQIP) was reauthorized in the Farm Security and Rural Investment Act of 2002 (Farm Bill) to provide a voluntary conservation program for farmers and ranchers that promotes agricultural production and environmental quality as compatible national goals. EQIP offers financial and technical help to assist eligible participants install or implement structural and management practices on eligible agricultural land.
The Agricultural Conservation Easement Program (ACEP) provides financial and technical assistance to help conserve agricultural lands and wetlands and their related benefits. Under the Agricultural Land Easements component, NRCS helps Indian tribes, state and local governments and non-governmental organizations protect working agricultural lands and limit non-agricultural uses of the land.  Under the Wetlands Reserve Easements component, NRCS helps to restore, protect and enhance enrolled wetlands.
The Conservation Stewardship Program helps agricultural producers maintain and improve their existing conservation systems and adopt additional conservation activities to address priority resources concerns.  Participants earn CSP payments for conservation performance – the higher the performance, the higher the payment.
The Agricultural Management Assistance Program (AMA) helps agricultural producers use conservation to manage risk and address natural resource issues through natural resources conservation. NRCS administers the AMA conservation provisions, while the Agricultural Marketing Service and the Risk Management Agency implement other provisions under AMA.
The Lay of the Land: Healthy Soil, Healthy Water
This film tells how local farmers are growing better crops while protecting water quality. The film was produced by Natural Light Films of Lancaster and sponsored by Stroud Water Research Center, the Lancaster County Conservancy, and the Pennsylvania No-Till Alliance.
7 Minute Version
16 Minute Version
Position Paper on PA Farm Bill-April 2019
Position Paper No. 2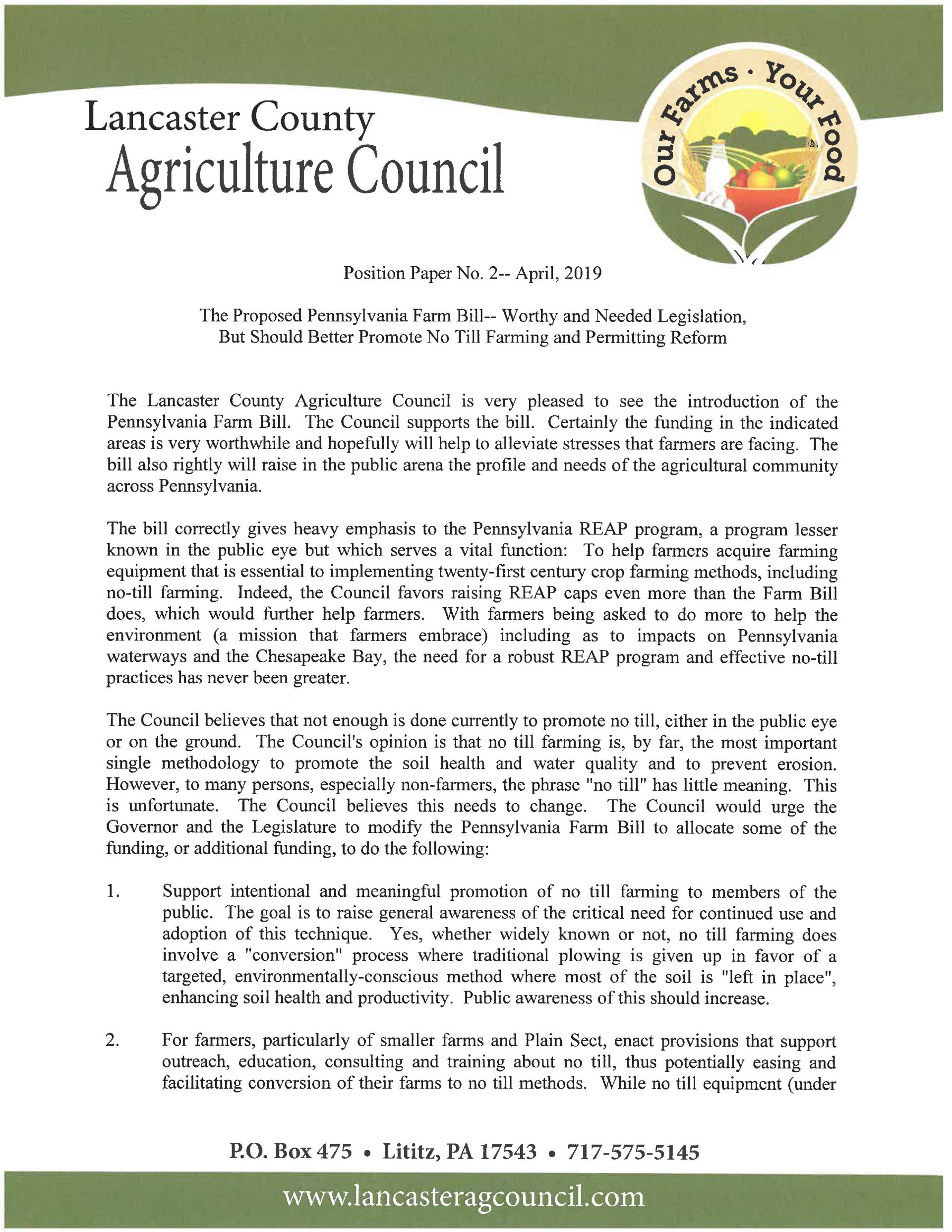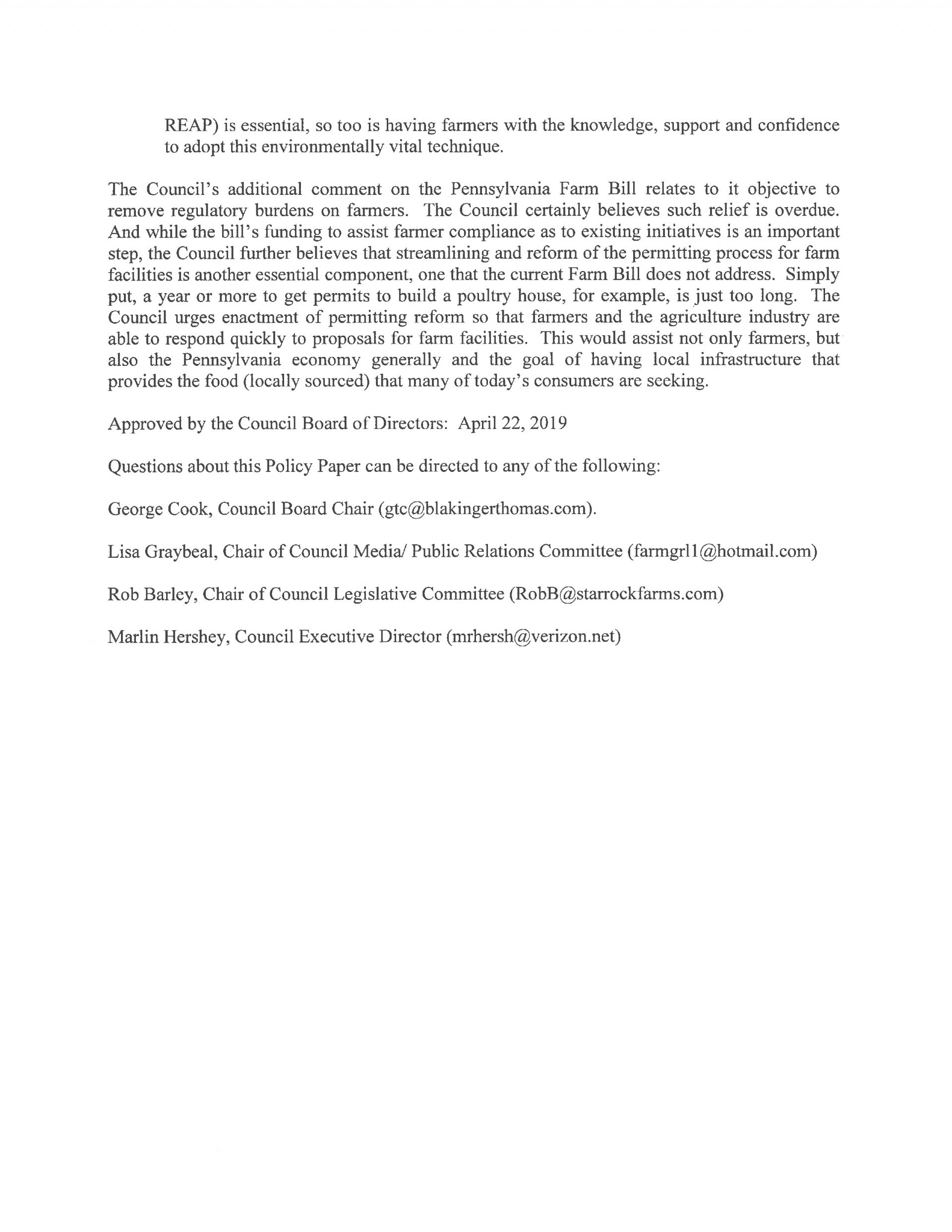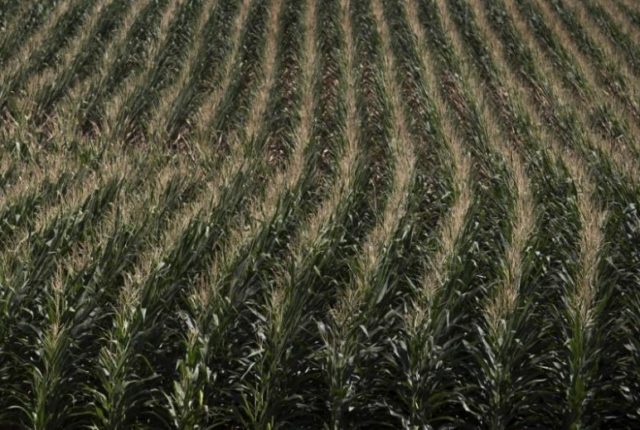 Join Our Email List
Close
View Our Videos